This will be the first of my Almost Wordless Wednesday Link-Up.
I hope that you will all join me each week and bring your almost wordless post.
Almost Wordless Wednesday
This morning we woke up to snow... What a way to start our Anniversary. 8 years ago today I got married in Togo, West Africa and the weather was quit different ~ way too warm and no thoughts of snow in the forecast. I wasn't too impressed to see the new snow on the ground but at least so far it is only a dusting but the sky was magnificent. It was a bluish - purple colour and even though it was snowing the sun was big and bright in the sky.
These pictures don't do it justice... but I loved how the sun was coming through the tree branches.
Pencil sketch done in Picasa 3
You are invited to participate in Almost Wordless Wednesday
1. Create a post for that is almost wordless. Theme is of your choice. I like to talk so I am sure I will have words in my post but try to keep it to a minimum.
2. All pictures must be your own or with the permission of photographer.
3. Please link back to my post, either by a written link or I have provided a button for you to post.
4. We all love to have visitors to our blogs, please take time to visit other posts that are linked up. I will visit all posts but please be patient, it may take me a while depending on my work schedule.
5. Copy the link of your post and add it to the linky tool below.
I would love if you would follow me through my many social media (although not required) that are listed on the right side of my page. Let me know if you are following me so I can follow back.
The most important rule is have fun....
I have the right to delete any posts that are not appropriate.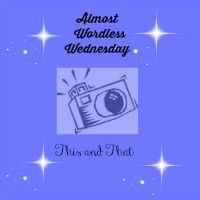 You will see the links once you click the InLinkz Link up
Button was made by
Grab My Button